It's been five days since Hurricane Michael decimated Mexico Beach, and dozens of residents are still nowhere to be found.
Search crews are sifting precariously through heavy rubble in search of about 30 to 35 people, the city's police chief said.
Beyond the ruins of this once-idyllic beach town, thousands of other Floridians must start a new life marked by grief, desperation and uncertainty.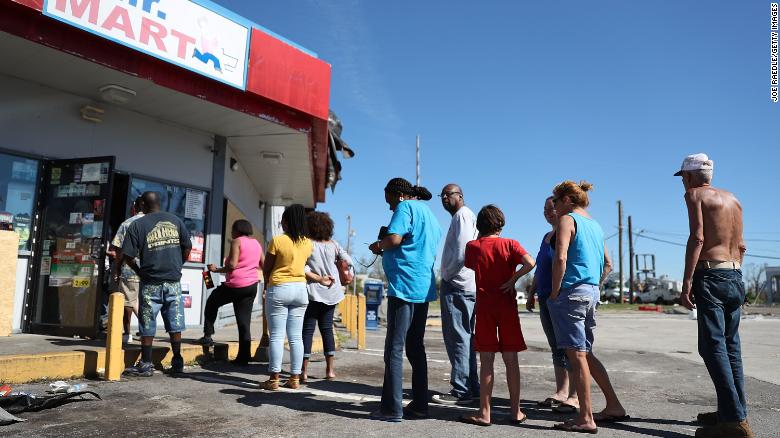 Randy June stared at his flattened neighborhood in Mexico Beach, dazed as his belongings lay strewn across a canal.
But while his house is destroyed, this Florida Panhandle town is still his home.
"We ain't going nowhere. We're going to rebuild somehow. I just don't know how yet," he told CNN.
"If we don't get no help … we'll be living under a bridge somewhere. We'll still be here."
More than 230,000 are still without power Monday morning, unable to fend off the stifling heat. Drivers are lining up for hours to get fuel. And residents in the hardest- hit areas are relying on airdropped food and water to survive.
But with dozens of people still unaccounted for, the prevailing fear is that the death toll might rise. The ferocious hurricane has already killed 18 people in four states.
On Monday, President Donald Trump is visiting some of the devastated cities in Florida and Georgia.
Over the weekend, he made a disaster declaration for six Georgia counties. That followed his previous declaration of a major disaster in Florida's Bay, Calhoun, Franklin, Gadsden, Gulf, Jackson, Liberty, Taylor, and Wakulla counties.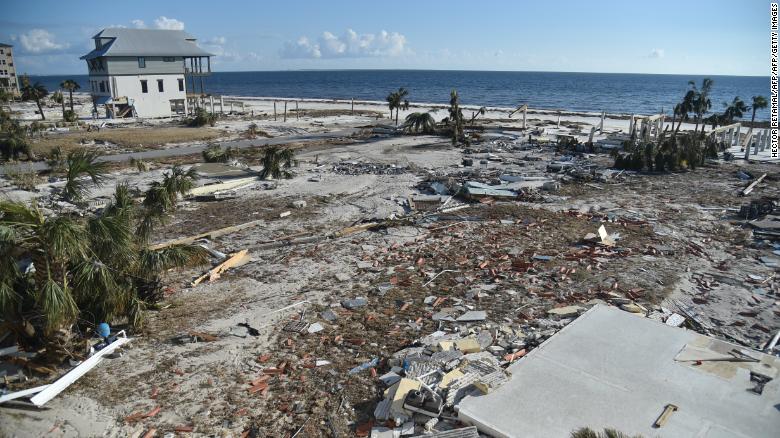 These declarations give affected residents and businesses access to federal aid and funding.
FEMA has 14 teams in place in Florida to help people register for disaster assistance. There are also 17 distribution points throughout Florida and Georgia where people can get food and water.
Residents could still be trapped
Hundreds of people from across the country have called local officials, desperate for any news about their loved ones.
But rescue attempts have been arduous because of widespread debris and buckled roads that make transportation difficult.
Crews are using bulldozers to move debris and cutting trees with chainsaws to clear highways and hundreds of roads blocked by the wreckage.
"What's taking up most of your time right now just gaining access to some of these areas," said Panama City Fire Chief Alex Baird.
The fire department has received more than 200 calls for checks on residents. But Baird said it could take days or even weeks before those checks will be completed. Crews need to go door-to-door because there is no power, and cellphone service is spotty.
The death toll is 18, but could rise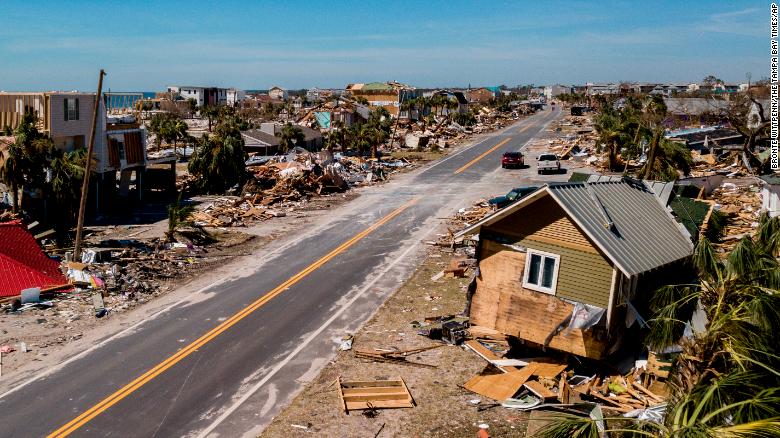 At least 18 people have died since Hurricane Michael made landfall Wednesday.
Six of those victims died in Virginia. Four people drowned and a firefighter was killed when a tractor-trailer lost control and hit the firefighter's truck on a wet highway. Virginia emergency officials said the sixth person died in Charlotte County.
In Georgia, an 11-year-old girl died when a metal carport came crashing through her family's roof.
In North Carolina, two of the three people who who died in the storm were killed when their vehicle struck a fallen tree, McDowell County officials said.
But the most fatalities happened in Florida, where eight people were killed — including Steven Sweet, who died when an oak tree fell on his Gretna home.
Many of the rescue efforts are now focused on Mexico Beach, where canine teams are combing through mangled structures and piles of rubble looking for survivors.
About 280 of the town's 1,200 residents had said they planned to ride out the storm, but many fled at the last minute when Michael quickly gained strength, Mayor Al Cathey said.
With each passing day, the odds of trapped victims surviving get smaller. In Mexico Beach, authorities have brought in a temporary morgue, just in case.
No school indefinitely
Every school in Bay County, Florida, was damaged, officials said.
The future of thousands of students also remains unclear, especially those in Bay County, where schools are closed until further notice.
"It's not going to be a normal school year. There's nothing normal about where we are right now," Bay District Schools Superintendent Bill Husfelt told CNN affiliate WMBB.
With the majority of its 26,000 students displaced and many schools deemed not safe because of the damage, officials are discussing alternative ways to get students back to the classroom and to provide psychological aid for them.
"I would say every single school in Bay County has some type of damage, some more extensive than others," said Steve Moss, vice chairman of the Bay District School Board. "Some it'll probably take weeks or months to get online. Some it will take years."