Rana Nawas built her career on solving problems. As an Oxford-educated engineer she forged a highly successful career, plying her trade with companies like GE Capital, McKinsey & Company, as well as the Dubai government.
The UAE's female workforce
The labor force participation of women in the UAE is 41.5% in 2018. Globally it is 48.5%.
The current UAE Cabinet comprises 32 ministers of which 9 are women.
Women make up 66% of the public sector workers, with 30% in leadership roles.
But after 17 years of problem solving for corporate giants, Rana took a leap of faith to use those skills to pursue her own passion — nurturing the talent and spirit of women.
Today Rana is a successful public speaker, a former president of Ellevate Dubai, a network for professional women, and hosts a popular podcast she named 'When Women Win' — all aimed at providing women with the support, knowledge and tools to thrive.
But the journey from corporate high-flyer to women's advocate was not an easy transition.
'You're a role model when you help others rise'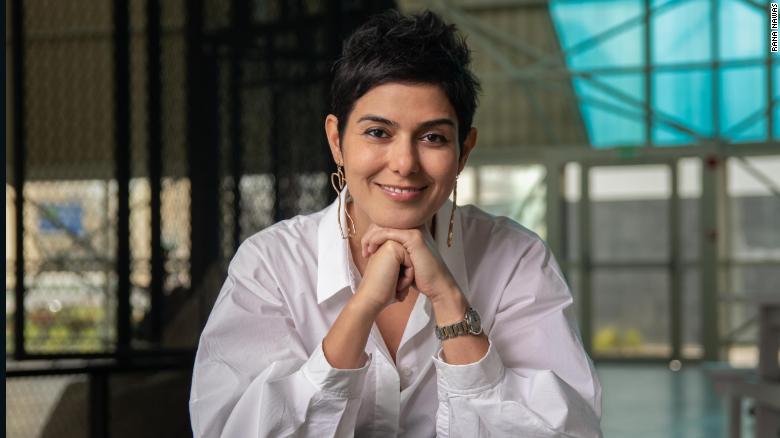 "I released the first episode (of When Women Win) in mid-October 2017," Rana says. "Then within a few weeks I was diagnosed with cancer."
"I was stunned … really shocked because I'd never been to hospital in my life except to have my babies and here they were telling me that I had to do chemotherapy for six months."
"So, I had a lot of difficult decisions to make, a lot of choices to make," she says.
Rana decided to carry on producing 'When Women Win' throughout her treatment, motivated by the need to help others, which in turn helped her through her own struggles.
"The purpose of the podcast is to inspire women and give them the tools and strategies they need to succeed in life at whatever they choose to do," she says.
"It's about helping them win. I wanted to start normalizing this winning thing."
The first season proved to be incredibly popular, taking 'When Women Win' to the top spot on the iTunes podcast chart for the Middle East within a year.
Currently, it has an audience of an average of 20,000 downloads per episode in 163 countries.
Ten months after she started her treatment, Rana was given the all-clear in October, 2018.
'I've learned to stop saying sorry'
In her podcast, Rana interviews a wide range of entrepreneurs and inspiring women.
They include Princess Tessy Antony of Luxembourg, YouTuber Kristina Kuzmic, activist Dr. Auma Obama and CNN Anchor, Hala Gorani.
"My guests are so diverse. It's a business podcast because it's designed with a businesswoman in mind. But even businesswomen have very diverse interests."
"I'll have a corporate woman on talking about the subject matter 'A'. And an entrepreneur talking about 'B'. And then I'll bring in a science journalist or a historian or an executive coach," Rana says.
"The point is to cater to women with diverse interests because yes we're all women but we're not a homogenous group. We're very different."
Rana says that she learns something new from every guest, changing the way that she thinks and shaping her.
"One tool that I've learned is to stop apologizing all the time."
"I do this, a lot of women do this, is (to say): 'Oh, I'm sorry, can I do this? I'm sorry, can I do that?'"
"It really minimizes you and gives away your power."
The challenge of East meeting West
Born in England to a Palestinian father and Lebanese mother, Rana says she grew up facing the "dichotomy of liberal and traditional values."
"I was born in the UK and we moved to the UAE when I was five years old."
"I went to an international school there and then at 17 I moved to the UK for university and worked in London for a couple of years and then moved to Dubai."
The UAE is working towards gender equality as part of a UN push for development goals towards the year 2030.
Rana says Dubai is out front in this effort.
"Dubai is leading the way because not only is its leadership super vocal and committed in actions but also because a lot of the multinationals have their regional headquarters in Dubai. And so by virtue of location we get all of these benefits."
"Now that is not translating into success in the local private sector as much, so the local companies or regional companies are not yet there."