A sea of Sudanese protesters calling for President Omar al-Bashir's ouster descended on his compound in the capital Khartoum on Saturday, in what could be the biggest rally since a wave of anti-government demonstrations began in December, multiple eyewitnesses told CNN.
Crowds converged on the nucleus of Bashir's rule, Sudan's presidential palace and the nation's military headquarters, responding to a renewed call for protests from the Sudanese Professionals Association (SPA), an umbrella organization of doctors, lawyers and journalists that has led many of the demonstrations.
Security forces made at least two attempts to disperse the crowds, firing teargas on protesters amassing in surrounding streets, but the sheer number of people made the demonstration difficult to disperse, eyewitnesses said.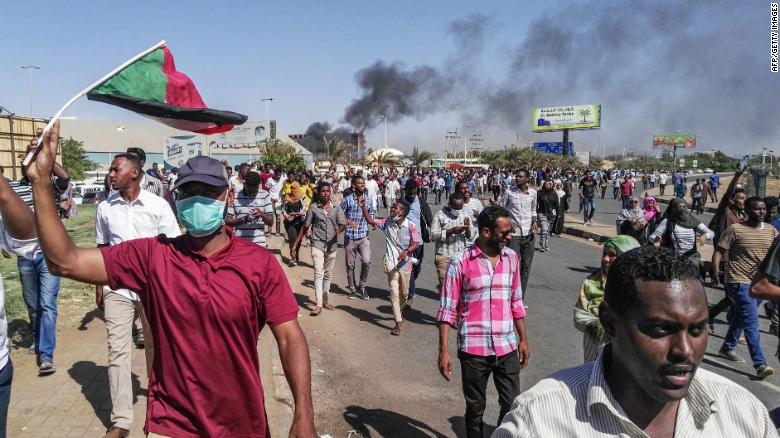 CNN could not independently confirm the size of the crowd, but the SPA estimated that hundreds of thousands of protesters had gathered in front of the compound. Because of the nature of the protests, Khartoum officials and police are not commenting publicly on the numbers.
After "limited clashes" with protesters, the authorities withdrew, according to a local journalist who we are not naming for their security. The forces outside the general command of the Sudanese Armed Forces have so far stayed in their positions, the source told CNN.
Demonstrators plan to maintain their presence outside the presidential compound, but it is unclear how this show of resistance will play out as night falls, the local journalist told CNN. Many protesters are bringing mattresses and blankets as they settle in for the evening. Local businesses and tradesmen are distributing free food and water to demonstrators staging a sit-in in the streets, multiple eyewitnesses told CNN.
A number of protestors have been injured in clashes with security forces and were transferred to hospital, a source at the scene said.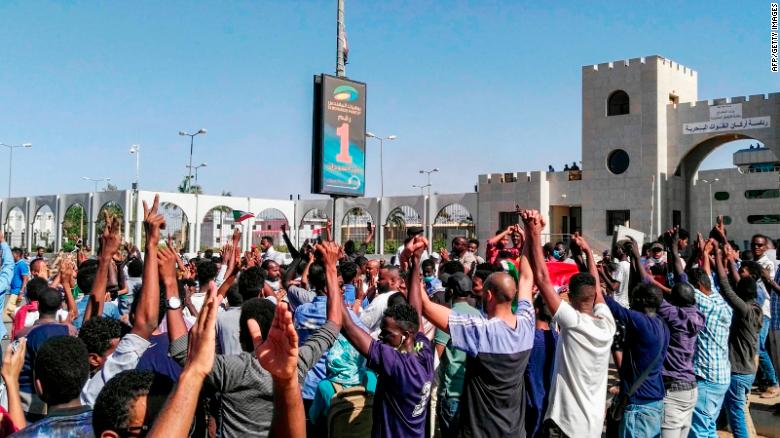 Sudan's government has reported 32 fatalities, including three security personnel, since protests began in December, but doctors and opposition activists suggest the toll is much higher.
The demonstrations, which began last year over fuel shortages and a hike in food prices, have morphed into the largest popular protests in Sudan since Bashir came to power 30 years ago.
Reports of excessive force used in a crackdown by security forces against protesters since December have been condemned by the UN's High Commissioner for Human Rights and Amnesty International.
Demonstrations are being organized and documented by multiple groups, including the SPA and a media working group, with no centralized leadership.
The groups are made up of a network of Sudanese activists, journalists, doctors and filmmakers who are documenting, archiving and sharing videos, photos and witness accounts. Taking stock of the uprising has been challenging, as Sudan has sought to censor news coverage, detaining an unprecedented number of reporters in the process.
Footage shared on social media from previous rallies has shown security forces beating protesters in the streets, firing rubber bullets and live ammunition and attacking patients and staff being treated in a hospital.
On Thursday, a bipartisan group of US senators, including Ted Cruz, Marco Rubio and Cory Booker, raised their concerns over the muted US policy response to the crackdown in Sudan in a letter to Secretary of State Mike Pompeo.
"While the long-term effects of the protests and calls for transition remain unclear, twice in Sudan's recent history — in 1964 and 1985 — civil protests have brought down military regimes, giving a clear example of the potential outcome of this mass movement," the senators wrote.