Missouri Attorney General Eric Schmitt on Friday said he is referring 12 cases of alleged sexual abuse by members of the Catholic clergy to local authorities for possible prosecution.
The announcement came as Schmitt released a 185-page report detailing his review of 2,000 priests' personnel files, dating from 1945 to the present day.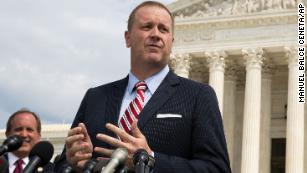 The attorney general's office said it reviewed the records of more than 300 deacons, seminarians and religious women who served in the state's four Roman Catholic dioceses: the Archdiocese of St. Louis, the Diocese of Kansas City-St. Joseph, the Diocese of Springfield-Cape Girardeau and the Diocese of Jefferson City.
In all, the report said it found "credible allegations of 163 instances of sexual abuse or misconduct by Catholic diocesan priests and deacons against minors."
The offenses range from the violation of "boundary issues," such as priests engaging in inappropriate discussions or correspondence with children, to forcible rape as defined by Missouri statute, according to the attorney general's office.
In Missouri, jurisdiction to formally investigate alleged criminal activity of this nature lies with local law enforcement, not the attorney general.
"It is impossible to quantify the number of victims based on the information available to the AGO, but instances of priests abusing more than one victim are frequent," the report said.
"Sexual Abuse of minors by members of Missouri's four Roman Catholic dioceses has been a far-reaching, long-standing scandal. No region of the State of Missouri has been spared," the report said. "For decades, faced with credible reports of abuse, the church refused to acknowledge the victims and instead focused its efforts on protecting its priests. During this time, the responsibility for evaluating and responding to reports of abuse and misconduct was controlled by a small circle of priests in diocesan leadership and the bishops."