What used to be a gorgeous beachfront city now looks like an apocalyptic mess after Hurricane Michael shredded Mexico Beach, Florida.
"Mexico Beach was wiped out," said Brock Long, head of the Federal Emergency Management Agency. "That's probably ground zero."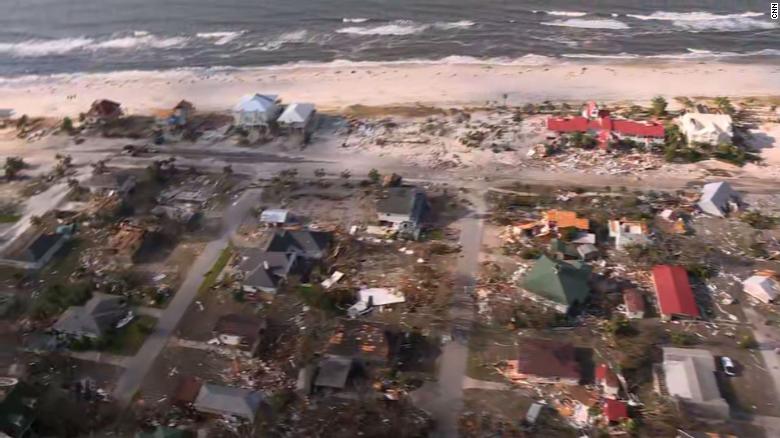 Michael made landfall Wednesday near Mexico Beach as monstrous Category 4 hurricane, annihilating homes with its 155-mph winds.
"First the cars started (floating) by, and all the debris was in the air," Mexico Beach resident Scott said. "When the water came in, houses started floating in front of our home."
He spoke with CNN's Brooke Baldwin live on air Thursday, in front of a home that was pushed onto its side.
"All the homes that are on this side of the road at the beach, they're all gone," Scott said.
"When we got back to the house … we had furniture in our house that wasn't our furniture. The surge had brought stuff in so bad, the walls collapsed — the only thing I could find of ours was my briefcase.
"Our lives are gone here, all the stores all the restaurants, everything, there's nothing left here anymore."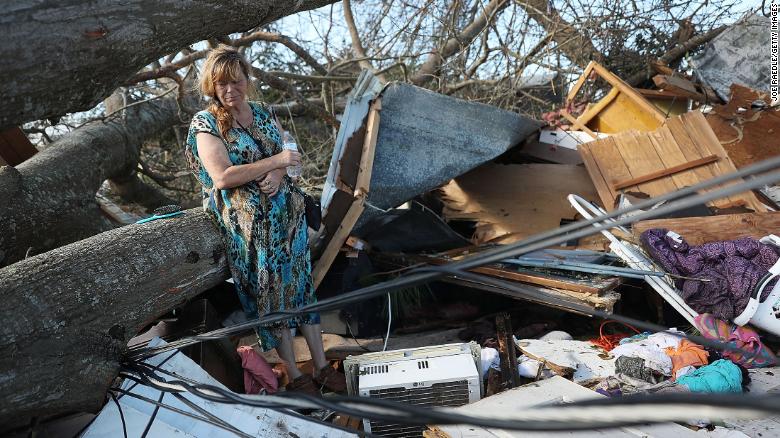 Other catastrophic scenes are emerging across the Florida Panhandle, where Michael left more than 350,000 without power and entire neighborhoods in ruins.
In the decimated city of Callaway, pieces of obliterated houses litter rain-drenched roads. Every telephone pole in sight has snapped in half.
"It's very hard to explain," said Jason Gunderson, a member of the Cajun Navy rescue group. "The only way I can explain it, through my eyeballs, is a Third World country war zone."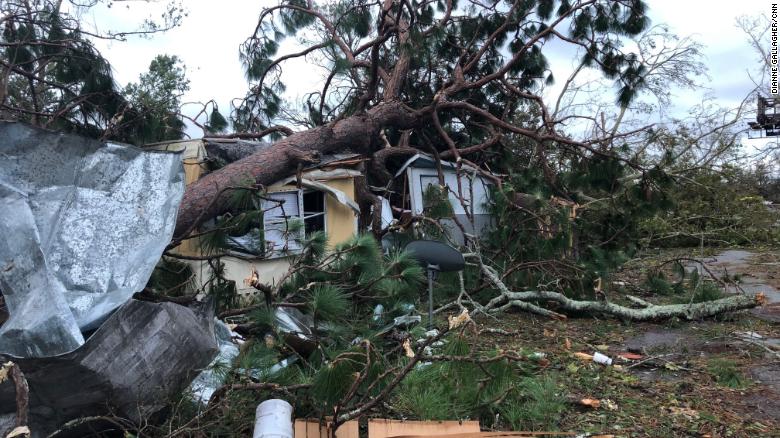 The storm has already killed a man in Florida and a girl in Georgia. And as rescue workers sift through the debris Thursday, many fear the death toll will rise.
After slamming Florida and lashing Georgia, Michael is now threatening the storm-weary Carolinas. Tornadoes, dangerous winds and more flooding are possible in many of the same areas still recovering from Hurricane Florence.
Tracking Michael
Michael is expected to dump 4 to 7 inches of rain from eastern Georgia to the southern mid-Atlantic and up to 9 inches of rain in parts of North Carolina and Virginia, the National Hurricane Center said.
Key developments
Interstate 10 is closed: All lanes of I-10 between mile marker 85 to mile marker 166 in Florida are closed due to debris, Florida authorities said Thursday.
No power, no internet: More than 486,000 customers don't have electricity in Florida, Alabama, Georgia and the Carolinas.
Where is Michael? As of Thursday morning, the storm was centered about 40 miles west-northwest of Columbia, South Carolina, and is headed northeast.
School that helped during Hurricane Maria is now destroyed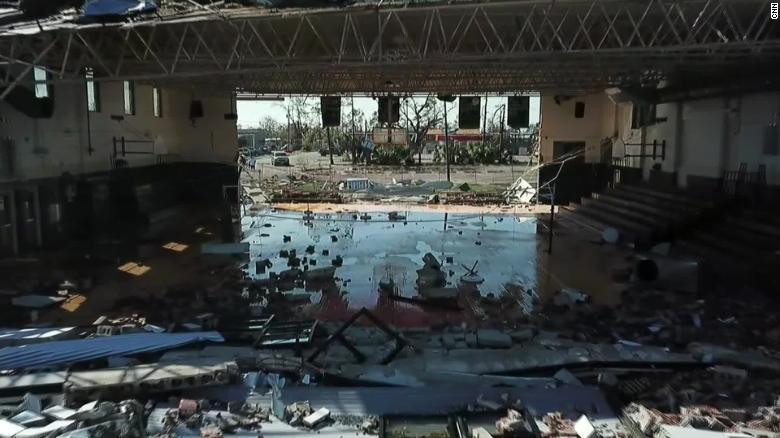 The students and staff at Jinks Middle School have dealt with disaster before. Last year, they welcomed children who were displaced by Hurricane Maria in Puerto Rico.
This time, the Panama City school was ripped apart by Michael. The debris-covered floor of the school's gymnasium is now visible from the sky.
Principal Britt Smith choked up as he looked at images of the decimated building.
"You can't make sense of it, but what you do is you take the situation, and what we have to make certain that our kids know is that we must be resilient," Smith said.
"Resiliency is important, and it's an important life message that we all have to learn. … But at this point, there's really no making sense. It's just how do we get together, how do we recover?"
'I just need to know he's OK'
Uprooted trees, downed power poles and limited communications have greatly hindered first responders and families trying to reach residents in need.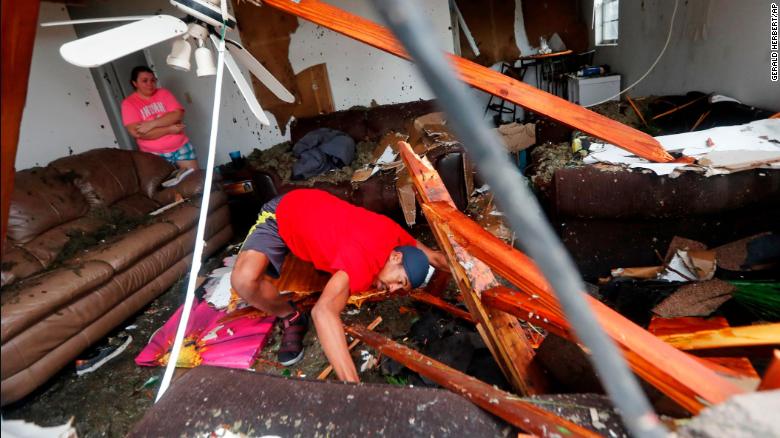 Megan McCall says her brother Jeff and his family were riding out the storm in the Panhandle. No one has heard from them since Wednesday afternoon.
Her brother was able to tell a friend that his home was starting to get cracks in the walls and water was rushing in Wednesday. A neighbor told McCall that all the docks in the area were destroyed and many people are stuck in their homes as the roads have been blocked with debris.
"I just need to know he's OK," McCall said. "If the house and the cars are destroyed they can be replaced, but my niece needs her dad — and as much as I sometimes can't stand him, I would do anything to just know he's OK."
In Wakulla County, the sheriff's office made a list of people who decided to ride out the storm and will check on them Thursday, sheriff's captain Chris Savary said.
Fallen debris kill 2 people
In Seminole County, Georgia, a metal carport hoisted by the wind crashed through a roof, hitting a girl's head, the county's emergency management director Travis Brooks said.
Several hours passed before emergency officials could reach the unincorporated area where the girl was killed, Brooks said.
And in Greensboro, Florida, a man died Wednesday after a tree fell on a home, the local sheriff's office said.
FEMA's Long said he's worried the number of deaths will rise Thursday.
"Hopefully they don't, but those numbers could climb as search and rescue teams get out," he said.
Effect of climate change
Michael's strength may reflect the effect of climate change on storms. The planet has warmed significantly over the past several decades, causing changes in the environment.
Human-caused greenhouse gases in the atmosphere create an energy imbalance, with more than 90% of remaining heat trapped by the gases going into the oceans, according to the National Oceanographic and Atmospheric Administration. There's evidence of higher sea surface temperature and atmospheric moisture, experts say.
While we might not get more storms in a warmer climate, most studies show storms will get stronger and produce more rain. Storm surge is worse now than it was 100 years ago, thanks to the rise in sea levels.
According to Climate Central, a scientific research organization, the coming decades are expected to bring hurricanes that intensify more rapidly, should there be no change in the rate of greenhouse gas emissions.