The driver of a pickup truck loaded with gas canisters stabbed three people in a Melbourne street on Friday, killing one of them in what Australian police are treating as an act of terrorism.
Witnesses reported a loud explosion from the vehicle, which burst into flames before a man emerged and began attacking people with a knife in the street, police said.
The horrifying scene was over in a matter of minutes after police shot the attacker, who died after being rushed to the hospital under police guard. One of his victims also died in the hospital.
"This is an evil and terrifying thing that has happened," Victoria State Premier Daniel Andrews said.
ISIS claimed responsibility for the knife attack through its media wing Amaq, the SITE Intelligence Group reported. CNN cannot independently verify the claim and no evidence to support it was provided through Amaq,
The incident unfolded on a busy downtown street on Friday evening. As the attacker's vehicle burst into flames, the man emerged and "engaged" with members of the public, Victoria Police Chief Commissioner Graham Ashton told reporters Friday.
When police arrived, the man punched one of the officers through their patrol car window, Ashton told reporters Friday. He lunged at them with a knife when they got out of the vehicle. One of the officers shot him in the chest, Ashton said.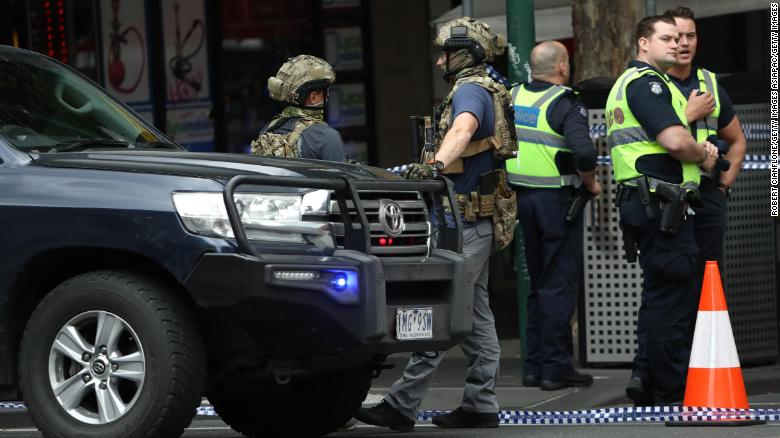 After putting out the fire in the car, authorities found what Ashton described as "barbecue-style" bottles of gasoline inside the vehicle, which prompted authorities to call the bomb response unit to the scene.
Police said they knew the identify of the suspect but declined to name him due to "operational reasons." He was known to authorities because some of his family members were "persons of interest," Ashton said.
Only after he was shot did police realize that three members of the public, all men, had been stabbed. One died in the hospital, Ashton said. Two were being treated for their injuries.
The investigation is still in its early stages, but Ashton said police do not believe there is a "ongoing threat."
'He has a knife'
Streets were closed, trams halted and nearby buildings evacuated as police rushed to the scene, which was crowded with shoppers and commuters late on Friday afternoon local time.
"It's the center of Melbourne, where a lot of the transportation changes over … it's probably the busiest part of Melbourne and late on a Friday," said Meegan May who witnessed part incident from a nearby tram.
"It's basically a commuter hub and a central shopping district as well."
May said she was taking the tram into the city center when she heard someone shout "he has a knife." She then turned around to see a vehicle on fire.
A handful of videos and images uploaded to social media appear to show the man attempting to stab police before he is shot. "There was a massive flame and bang, just smoke and lots of people," witness Shelley Reid told CNN affiliate Nine News.
Police have asked members of the public to send images and video of the incident in order to help with their investigation.
Melbourne also would have likely had more tourists in town because of the Melbourne Cup Carnival, one of the city's most popular social events that draws visitors from around the country. Though the main race was Tuesday, there are events scheduled until Saturday.
The Friday incident took place blocks away from Flinders Street Railway Station, where a driver plowed into pedestrians last year, injuring 18.